Removing Hyperlinks in Excel
Hey guys, Today we are here to rescue you from unwanted hyperlinks that are automatically created in your Excel sheet. We know how irritating it is to have multiple unwanted hyperlinks in your spreadsheet but don't you worry, In this article, we will explain how you can find and remove all the unwanted hyperlinks from your spreadsheet in just a few clicks.
How to find hyperlinks in Excel sheet?
To find out the hyperlinks in your Spreadsheet that contains say 10 hyperlinks, you just need to follow these simple steps,
Press "CNTRL+F" and it will open a Find and Replace window, there you would see an "options button" in the bottom right corner of the window, click on it.
Now, some options appear in your window, like Format, Search, Within and Lookin etc, click on the "Format button" and choose "Format from cell" option. 
Now, you have to select any one cell that contains the hyperlink and it will show preview.
Then click on "Find all" and It will find out all the hyperlinks from your Spreadsheet.
So, Now when you have found out all the unwanted hyperlinks from your Spreadsheet, Let's move forward and learn a hack to remove all of them from your Spreadsheet.
It's just as easy as Finding out the hyperlinks from Spreadsheet. In order to remove all the hyperlinks from the Spreadsheet, you just need to right click on the highlighted cell and select "Remove hyperlink" and this way you can remove the unwanted hyperlink easily.
What If you want to delete all the hyperlinks in just one go?
Consider this Spreadsheet, where so many unwanted hyperlinks are there and we need to remove them all in just one go, How would we do that?
Don't worry, we have a simple hack for helping you out in this situation. As there is no built-in function in excel through which you can delete multiple hyperlinks in just a few clicks, here is the simple way of doing it. You just need to follow these simple steps,
In any empty cell in your Spreadsheet, type 1 in the cell.
Now, copy this cell and select your columns with hyperlinks.
Select the column heading and press "CNTRL+Space" to select the whole column.
If in case, you have hyperlinks in any other column as well, just hold on the "CNTRL" key and select any cell from the other column and press "Space" to select the whole column.
Now, right click on any of the selected cells and choose "Paste Special" from the options.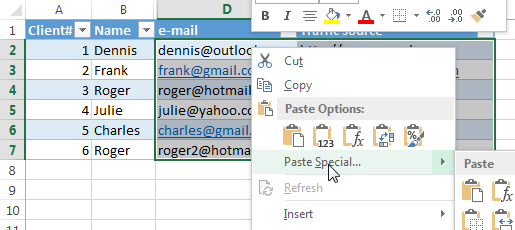 There appears a Paste Special dialog box, Select Multiply in it.
Now, just click "OK button" and you see the magic, all the hyperlinks are removed.
This trick was for all versions of Microsoft Excel series. You can also enable or disable the automatically created Hyperlink feature, Let's see how!
How to Disable Automation Hyperlink Creations?
Here are some steps you need to follow, in order to disable the creation of hyperlinks automatically.
Click on the File tab or Office button, and Select "options".
An "Excel options" window would appear, where you need to navigate to "Proofing" tab in the left corner.
Now, Select Auto Correct option and there appears an "Auto Correct Options" dialog box.
Here, you need to move towards the "AutoFormat As You Type" tab and unclick the " Internet and network paths with hyperlinks" option.
Now, click "OK button" and voila automatic hyperlinks creations are disabled.
We hope you learnt and enjoyed this article,if you got any queries,write it to us,we would try to help you out as soon as possible. You can also share this article on social platforms and can help your friends and colleagues in learning Excel.